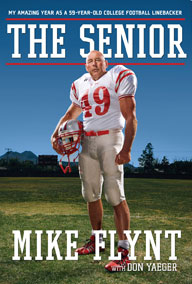 (NewsUSA) – While most almost-60-year-olds are card-carrying members of AARP, counting down the days until they spend time with their grandkids or until they hit the links for 18-holes, Mike Flynt decided he wanted to play college-level football. He was 59.
To understand the how and the why, you'll have to read his new book, "The Senior," which details his experience as the oldest contributing member of a college football team in NCAA history. Suffice it to say, Flynt is striving to prove that certainly there is life after football, but should you choose to, you can always go back and achieve your dreams, no matter the age.
Flynt grew up in Odessa, Texas, a relatively small town by Texas standards with a big heart for football. And like most young boys, Flynt grew up living and breathing the sport.
So much so that in high school, he was on the first state championship team at Odessa Permian, the same high school that inspired the movie "Friday Night Lights."
From there, Flynt went on to play linebacker for three years at Sul Ross State University. In his senior year, a fight resulted in Flynt being kicked out of school – one year before his eligibility was up. He completed his credits elsewhere, finally receiving his degree from the very college that had asked him to leave.
Deciding that his passion lay in training athletes like he was at one time, Flynt spent the next five years as a strength and conditioning coach at Nebraska, Oregon and Texas A&M.
In the early 1980's, Flynt resigned from A&M in order to start training the next generation of athletes – children. His organization, "Train Up A Child" was designed to help parents who home-schooled their kids to strength train safely, without equipment, while still achieving aerobic development.
Fast forward to 1999, and a new epidemic was sweeping the country – childhood obesity. Determined to make a difference, Flynt used his knowledge and talent as a springboard and created Powerbase Fitness – a portable device that uses resistance tubing to help users increase their strength.
With more than four decades of fitness training under his belt, Flynt applied for and received his fourth year of eligibility from the NCAA, allowing him to try out for the Sul Ross State football team – and bringing him full-circle.
"I think it was Carl Yastrzemski who used to say, 'How old would you be if you didn't know how old you were?' I'd be in my late 20s or early 30s, because that's how I feel," Flynt says.